Why Is Antique Flooring So Special?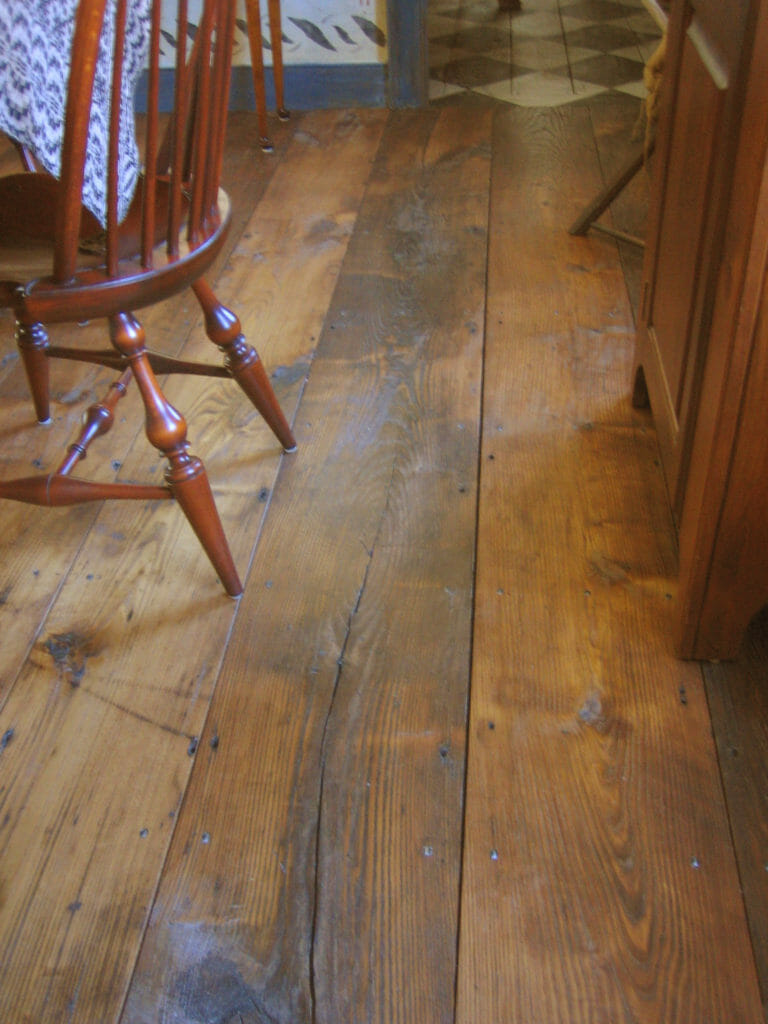 The first thing you may notice is the rich patina of an antique floor, which took hundreds of years to create, and subtle variations of color, such as the beautiful shades of honey and amber in Pumpkin Pine Flooring (aka Eastern White Pine).  The texture and contour of the wide plank surface is due to foot wear or saw marks.  Many old floor boards are not the same width from one end to the other, which leads to a pleasing irregular pattern.  Some floors even have patches (wood, leather, tin) or the rare Roman numeral carved in the surface when the boards were originally made.  These features add character and warmth, which cannot be found in new flooring.
All of these nuances create a unique and beautiful original antique floor. These are the reasons we love it and why we want to provide the best quality antique floors to you.
This recent article in CT Old House Online offers insight into the challenges and rewards of reclaimed flooring.
​
About the Old Wood Workshop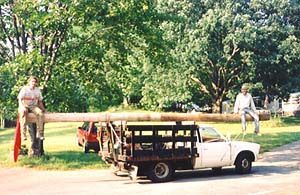 The Old Wood Workshop is based in Northeast Connecticut, open by appointment only. Please call 860-655-5259 or email info@oldwoodworkshop.com.
The Old Wood Workshop specializes in antique original surface, 18th century & early 19th century wide plank flooring, reclaimed antique wall board and other salvaged wood. We do not re-saw or re-mill material, but instead look for 150 to 300 year old flooring that has never had its surface altered, other than being walked on.
We provide quality reclaimed antique wood for homeowners as well as building contractors, designers and architects. We can sometimes supply small batch stock for cabinetmakers, furniture makers or other woodworking projects, including musical instruments.
~ Owner, Tom Campbell
Testimonials
We truly appreciate our customers and offer the best service we can to them. In turn, we get a lot of repeat business and sometimes make lifelong friends. Here's a few kind words from them…
Old Wood Workshop offers quality salvaged wood products. We purchased hard to find wide wall board. Tom is helpful and knowledgeable regarding historically appropriate methods. The ducks are cute! And Tom is very patient and accommodating for scheduling a visit. We will return for future needs for our 1800 farm house. We highly recommend his business.
~ Mark
Tom has been working with us for about 2 years on flooring for a 1780 barn restoration and a new house attachment. He helped us locate the floors for every room in the house and the barn. He was always helpful in figuring out what we needed & the look I was trying to achieve. He delivered our flooring personally to Texas for us, making 2 trips. He offered to come show the floor men how to lay the old flooring correctly. I would call him in an instant again for flooring & advice. He was a pleasure to work with.
~ Melinda
I have been a customer for many years. I have purchased 9 floors and both vertical and horizontal wall boards. I have also purchased wood working and delivery services over the years and Tom has always come through for me. I have recommended the Old Wood Workshop and Tom to multiple friends over the years. All their floors look wonderful and they are as happy with Tom as I am. What else can I say, I'm a customer for life.
~ Bill
Worked with Tom at Old Wood Workshop for a project up in the Adirondacks and he was great. Visiting his barns to pick out old flooring was an education as Tom spent time with me explaining the ins and outs of using old flooring and other salvaged woods. He delivered the flooring and worked with my contractors to be sure it was installed for great effect. It looks amazing. Also while visiting the barns, I saw he had 30 old chestnut paneled church pew backs. We used those to create vertical paneling in one of the bedrooms..came out amazing. Nothing can give you the look of using these old materials. Tom's the kind of guy where a handshake or a nod is all you need…I like that.
~ Peter